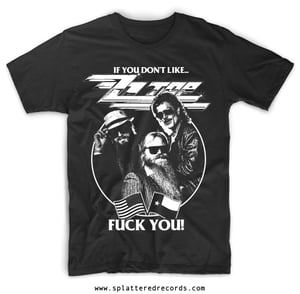 $

20.00
PLEASE READ FULL DESCRIPTION BEFORE ORDERING:
Due to the popularity of our ZZ TOP bumper stickers, we've decided to make a shirt of our original slogan for one of the greatest bands of all time. This is a collaboration with one of the modern world's best graphic artists, Ben Tipton/Burger City Rock n' Roll.
Although we never do pre-orders for any of our other products, this shirt order will only be for pre-sale purchase. The sale will run until Tuesday, June 2nd. We will only be printing the amount that is ordered. Basically, if only 18 shirts are ordered we'll only print 18, etc.
Be sure to have your correct shipping address entered during checkout. The shipping you pay for is what you'll receive. We will not change addresses on orders after the order in placed. Also, this shirt order must be done on it's own. Do not add this pre-sale with other items in the web store. If you do so we will refund your payment. These shirts will ship on their own and separately from other items that are currently available.
Sizes S-XXL available. White ink on black cotton (most likely Gildan brand).
Thanks for the support!